become a corporate sponsor
Corporate sponsors are essential to building a world where everyone has a decent place to live. Along with giving back to our Greater Cincinnati communities through sponsorship and employee engagement, there are numerous benefits that we are excited to offer our corporate sponsors to build their brand and public awareness. Align your company with the goal to build strength, stability and self-reliance through shelter in the Tri-state region.
Becoming a Habitat sponsor is a unique and rewarding experience. Your organization can have positive employee engagement opportunities, a visible association with one of the best-known brands worldwide, and the knowledge that you have helped improve affordable housing for hard-working Greater Cincinnati families.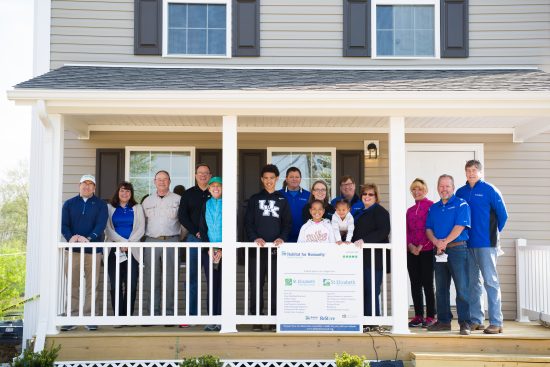 "Each day within our hospitals and physician offices, we have the privilege to provide extraordinary care to our patients and fellowship to our coworkers. But we have each placed our sweat equity and love into a structure that one of our own associates and her family will call home for years to come."

– Garren Colvin, President & CEO, St. Elizabeth Healthcare
To learn more, please contact Heather Cockram, Corporate Relations Coordinator, at heather.cockram@habitatcincinnati.org or 513-482-5658.
Ready for your first introduction to Habitat? Download our Team Builder volunteer day info here.
Download our current sponsorship packages here.
2017-2018 Sponsors
Master Builder ($100,000 and up)
Procter & Gamble
Hamilton County
Federal Home Loan Bank of Cincinnati
City of Cincinnati
Ohio National Financial Services
Western & Southern Financial Group
AmeriCorps
St. Elizabeth Healthcare
Ethicon, Inc
Butler County
Community Builder ($75,000 to $99,999)
George B. Riley Trust
Gardner Family Foundation
Partner Builder ($50,000 to $74,999)
Hope Builder ($25,000 to $49,999)
PEP Promotions
Schneider Electric
Thrivent Financial
Merrill Lynch / Bank of America
Dream Builder ($10,000 to $24,999)
Champion
Cinfed Credit Union
RDI Corporation
Apollo
Nixco Plumbing
Corcoran & Harnist
Midwest Construction
AK Steel
Regency Centers
SC Ministry Foundation
Strength Builder ($1,501 to $9,999)
Park National Bank
Help Build Hope/CrossRoads Missions
General Electric