Team Builder
building your team, building our community
Our Team Builder Program is a great way for corporate volunteers to take their volunteer experience to the next level and make an even greater impact in the lives of families in need in our community – creating sustainability and community.
Team Builder participants donate both their time and financial resources for an unforgettable day of camaraderie and building.
build team culture:
Develop cooperation and camaraderie
Interact with coworkers across the organization
Build morale and team spirit
Forge bonds with clients
Work toward a common goal
Build relationships
give back to the community:
Invest funds needed to build affordable homes in the tristate
Offer a valuable volunteer experience
Give your team an opportunity to experience the thrill of seeing the immediate results of their labor
benefits for participating organizations:
Social media – volunteers highlighted on our Facebook page and other social media outlets
Employee engagement for

up to 15 volunteers

to build (but not obligated to do so). Companies can also invite their clients and colleagues to join them
Habitat welcome packet with flyers, talking points, and sign-up instructions
Enjoy a truly unique team-building experience – all for a great cause!
---
"I really loved being able to learn a skill while also helping a local family move one step closer to living in their own home." - corporate volunteer
---
$1,500 donation for up to 15 participants provides:
A day of building a Habitat for Humanity of Greater Cincinnati house
Materials, tools, and safety equipment provided
Professional construction supervision
A photo of your group on site
Team Builder group's day of service will be highlighted on our social media outlets
Team Builder opportunities take place Wednesday through Saturday throughout the year and are scheduled on a first-come, first-served basis. Scheduling is subject to date availability.
The workday is from 8:30 a.m. - 4:00 p.m. and volunteers are requested to make a full-day commitment. We may be able to
accommodate larger groups, depending on the stage of construction. Companies may recruit additional volunteers for an additional requested donation of $100 per volunteer.
---
"It was well coordinated. We were able to make good progress and see the results of our efforts – that made the time spent very fulfilling." - corporate volunteer
---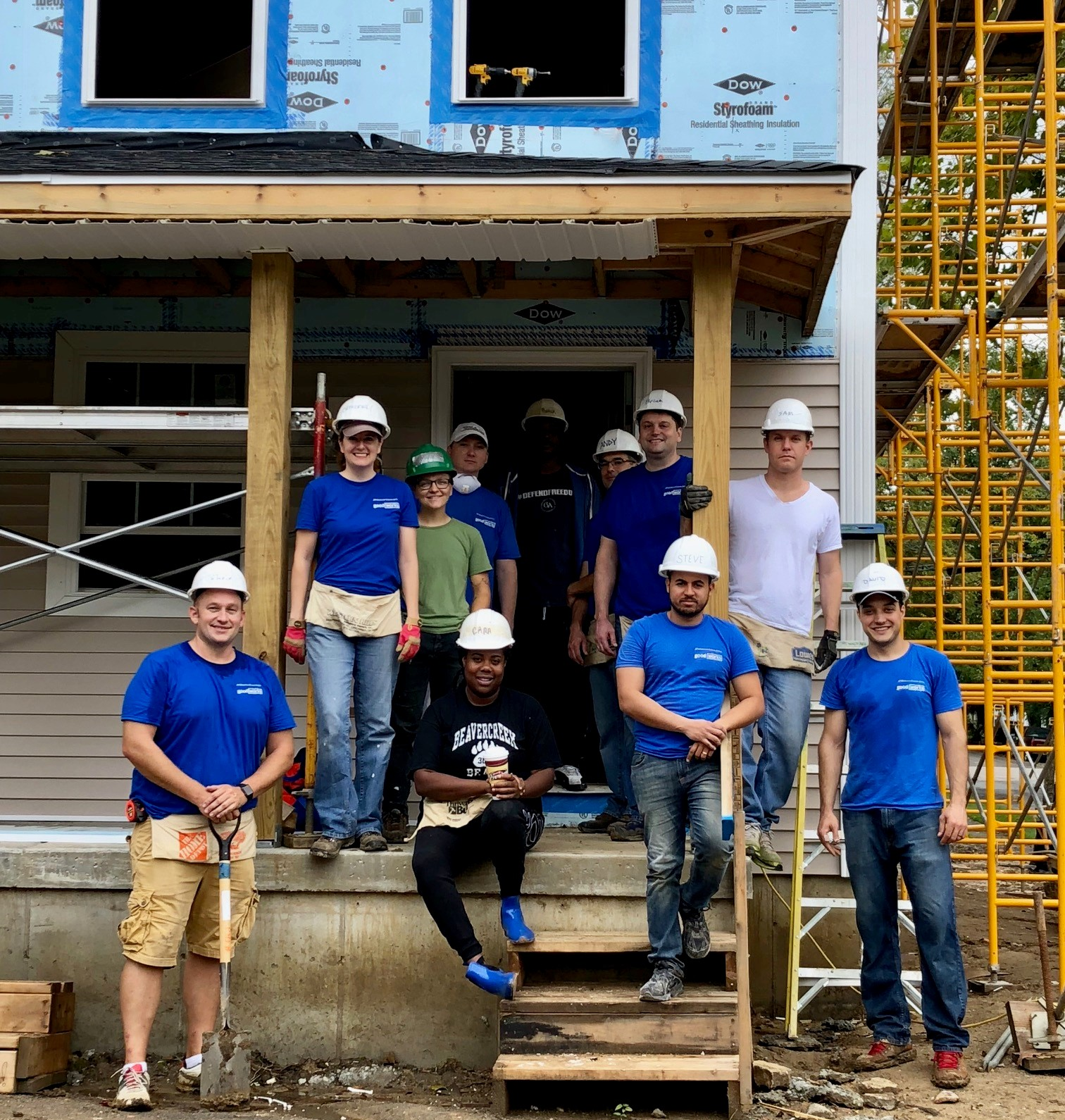 Companies are encouraged to give more if they are able and we thank you for keeping Habitat in mind while pursuing your corporate social responsibility goals. The Team Builder Program is an option for volunteer groups who are looking to give back in a more substantial way. All levels of support are appreciated and volunteers are not required to donate in order to volunteer, as non-sponsor days are also available.
Teams contribute a tax-deductible donation to cover the cost of materials and supervision for your build day experience.
This support also allows us to continue to provide affordable housing opportunities for families with limited incomes and establish safe neighborhoods. With high housing and land costs in most of the tristate area, Team Builder donations are crucial in helping us to serve more families.
To request more information or sign up to participate in the Team Builder program, please contact Heather Cockram at heather.cockram@habitatcincinnati.org or 513-482-5658. Thank you!