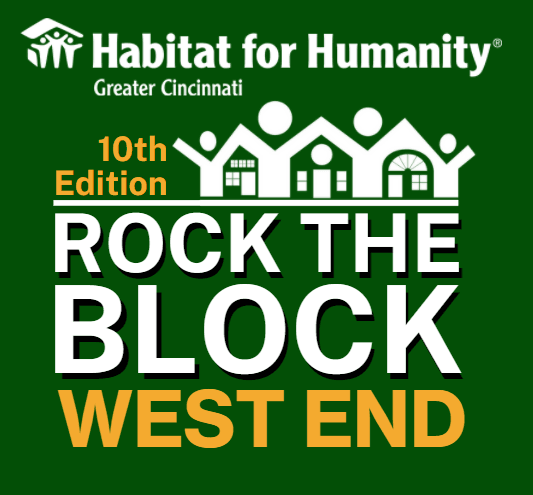 Announcing Rock the Block: 10th Edition in the West End!
We are proud to be partnering with the West End neighborhood, Seven Hills Neighborhood Houses, and several other organizations this May as we host our tenth bi-annual Rock the Block. Join us on May 14th as we come together to complete 15-20 home repairs, community projects, and celebrate the West End.
Residents of the West End that are interested in participating as homeowners can visit Seven Hills Neighborhood Houses to pick up an application or sign up at the link below!
The volunteer roster for Rock the Block is currently full. However, as we approach the event we expect spots to become available. To receive a notification when volunteer spots are available please join our waitlist using the link below! Volunteer spots will be assigned in order of the waitlist. Once registered and a spot becomes available, you will have 24 hours to claim your spot. Any questions please contact volunteer@habitatcincinnati.org.
https://www.habitatcincinnati.org/what-we-do/rock-the-block-events.html