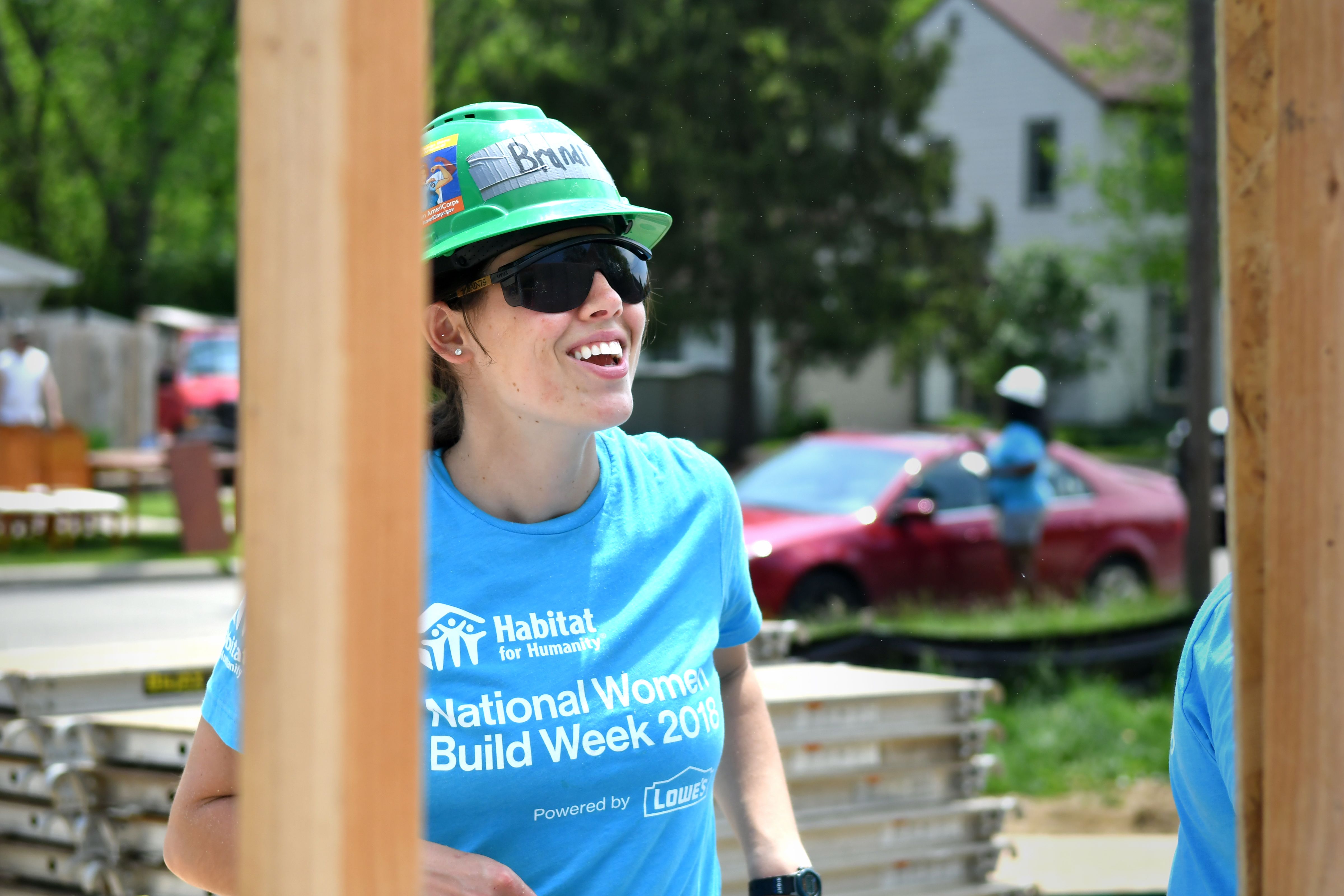 Habitat for Humanity of Greater Cincinnati and Lowe's invite women to build up their communities during National Women Build Week 2018
WHAT: Habitat for Humanity of Greater Cincinnati will gather hundreds of volunteers and staff to help build and repair homes in Carthage, Mt. Healthy, Oxford, Ross, Loveland Park, W. College Hill and Lower Price Hill as part of National Women Build Week.
Now in its 11th year, National Women Build Week has brought together more than 117,000 all-women volunteer teams to build or repair more than 4,500 homes. This year, Lowe's donated nearly $2 million to Habitat for Humanity to support the 2018 National Women Build Week, which is set to take place in 300 communities nationwide.
Wednesday, May 9th is Media Day and all media are invited to join us to see progress on a Habitat home in Mt. Healthy and projects in the surrounding neighborhood.
WHEN: Saturday, May 5 through Sunday, May 13, 2018
WHERE: various locations around the Tri-State (see schedule attached)
Wednesday, May 9, 2018 - Media Day
Lowe's Women Build Day | Mt. Healthy, OH-1503 St. Clair Ave. | 8:30 am – 4 pm – Reserved: Lowe's, with special guest, Jaclyn DeAugustino, WCPO Traffic and Bengals Cheerleader
WHO: Jaclyn DeAugustino, Basco Shower Enclosures, Western & Southern Life Insurance, Habitat Young Professionals, Ohio National Financial Services
 
MEDIA CONTACTS:
Beth Benson
Habitat for Humanity of Greater Cincinnati
513-520-0949
beth.benson@habitatcincinnati.org
Melody Thuston
Lowe's Companies, Inc.
704-758-0401
Melody.Thuston@lowes.com
About Habitat for Humanity of Greater Cincinnati
Habitat for Humanity of Greater Cincinnati (http://habitatcincinnati.org/) is a non-profit Christian housing ministry that seeks to build strength, stability, and self-reliance through shelter. Since 1986, Habitat for Humanity of Greater Cincinnati has built, renovated, or repaired more than 600 homes throughout a nine-county region including Hamilton, Butler, Clermont and Warren counties in Ohio; Boone, Campbell, and Kenton counties in Kentucky; and Dearborn and Ohio counties in Indiana. It has also contributed to building more than 1,000 homes globally in Armenia, Cambodia, El Salvador, and Kenya. Habitat is dedicated both locally and globally to construct, rehabilitate and preserve homes; advocate for fair and just housing policies; and provide training and access to resources to help families improve their shelter conditions.
About Lowe's in the Community
Lowe's, a FORTUNE® 50 home improvement company, has a 60-year legacy of supporting the communities it serves through programs that focus on K-12 public education and community improvement projects. In the past decade, Lowe's and the Lowe's Charitable and Educational Foundation together have contributed more than $300 million to these efforts, and for more than two decades Lowe's Heroes volunteers have donated their time to make our communities better places to live. For the latest news, visit Newsroom.Lowes.com or follow @LowesMedia on Twitter.
# # #