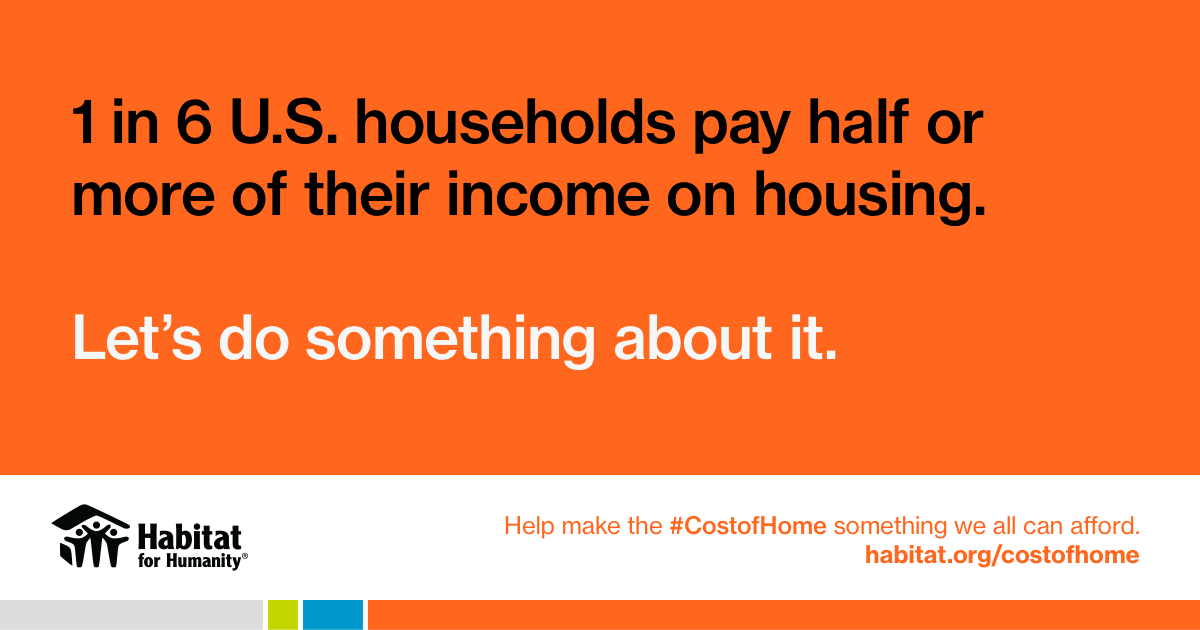 Habitat organizations across the country are mobilizing to influence policy and system changes at the federal, state and local levels through "Cost of Home."
Cincinnati, OH (July 1, 2019) — Nearly 19 million households across the United States are spending at least half of their income on a place to live, often forgoing basic necessities such as food and health care to make ends meet. In Hamilton County alone, more than 100,000 households are paying over 30% of their income for housing, according to the Community Building Institute. The stability that housing should bring continues to remain out of reach for many people.
Today, Habitat for Humanity of Greater Cincinnati (HFHGC) joined Habitat organizations across the country to launch a new national advocacy campaign aimed at improving home affordability for 10 million people in the U.S. over the next five years.
Marking significant growth in Habitat's commitment to ensuring that everyone has a safe and decent place to call home, the Cost of Home campaign seeks to identify and improve policies and systems through coordinated advocacy efforts at the local, state, and federal levels.
Cost of Home focuses on improving housing affordability across the housing continuum in four specific policy areas: 
•    increasing supply and preservation of affordable homes
•    equitably increasing access to credit
•    optimizing land use for affordable homes
•    ensuring access to and development of communities of opportunity
HFHGC plans to support local affordable housing initiatives in collaboration with other advocates, as well as work with Habitat partners at the state and national level. For example, this spring local representatives joined with colleagues across the state to advocate for changes in how the Ohio Housing Trust Fund is funded, which would benefit homeless and affordable housing initiatives statewide.
Ed Lee, HFHGC President/CEO said, "When the cost of home is your family's future, the cost is too high. We've been working to create affordable homeownership in Greater Cincinnati for more than three decades, but we can't build our way out of this. We must collaborate to change the policies that limit housing affordability."
More details about Habitat's Cost of Home policy platform and campaign activation are available at habitat.org/costofhome. For more information, or to speak to Habitat for Humanity of Greater Cincinnati about the campaign, please contact Beth Benson at beth.benson@habitatcincinnati.org or 513-482-5646.
#    #    #