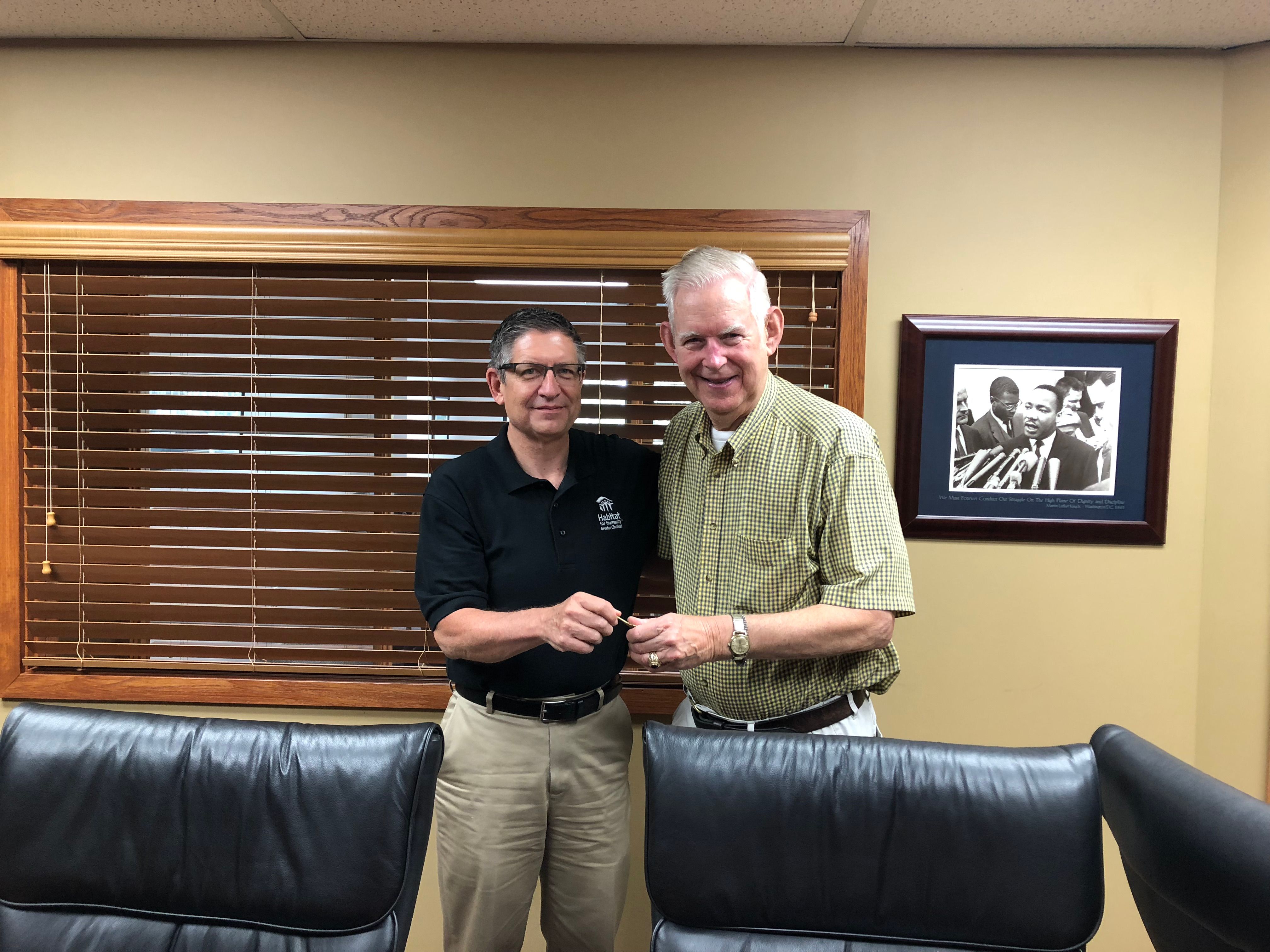 Celebration on Feb. 1 kicks off renovation for future homebuyer
 
Cincinnati, OH (Feb. 3 2020) – Last Saturday, a treasured old home began to take on new life and create new memories, thanks to an inspiring gift from a lifelong resident of the Village of Lockland.
Roger Grein lived his whole life in the house where his parents raised him at 114 Moock Avenue in Lockland, overcoming physical challenges to grow, thrive, and give back. When he decided that it was time to move to a more accessible home, he decided to donate his home to Habitat for Humanity of Greater Cincinnati (HFHGC). It wasn't Grein's first gift to Habitat, nor his first act of generosity to inspire others. 
An entrepreneur since age seven, Grein made his first significant philanthropic contribution as a young teenager and has been freely giving of his time, talent and treasure for the past sixty years. In 2008, he founded Magnified Giving (https://magnifiedgiving.org/). Its mission is to educate, inspire and engage students in philanthropy, and to touch the hearts and minds of teens, lighten the concerns of others, and magnify the impact of philanthropy. Each year, thousands of students at middle and high schools in the area study local nonprofit organizations, including site visits and interviews, and decide how to invest grants provided by Magnified Giving. Grein also founded a summer kindness camp called Camp Give (https://magnifiedgiving.org/campgive). 
Many years ago, Grein decided to honor his parents by supporting the construction of two different Habitat for Humanity homes in the Millcreek Valley area. "Roger reached out to us again a few years ago to find out whether he could donate his home in Lockland to be renovated as part of the Habitat affordable homeownership program," according to Ed Lee, HFHGC President/CEO. "Of course, we said yes!"
Like all Habitat homes, renovation of the home will be done in partnership with the future homebuyer. Lauren Brown put in 250 hours of sweat equity, completed required homeownership classes, and will commit to affordable mortgage before getting the keys to her new home.
A large gathering of supporters gathered for the kickoff ceremony on a chilly Saturday morning, including Lockland Mayor Mark Mason and councilmembers, Grein's former neighbors, Magnified Giving and Habitat staff and board members, high school and college volunteers ready to start working on the house, and a film crew producing a documentary on Roger Grein's remarkable life.
About Habitat for Humanity of Greater Cincinnati
Founded in 1986, Habitat of Humanity of Greater Cincinnati is a non-profit Christian housing ministry that seeks to build strength, stability, and self-reliance through shelter. Habitat is dedicated both locally and globally to construct, rehabilitate, and preserve homes; advocate for fair and just housing policies; and provide training and access to resources to help families improve their shelter conditions. Over the decades, Habitat has built, renovated, or repaired more than 670 homes in southwestern Ohio, northern Kentucky, and southeastern Indiana. Globally, the organization has contributed to building more than 1,000 homes in Armenia, Cambodia, El Salvador, Kenya, and Nepal.
Explore our website to learn more about how to qualify to purchase a home, becoming a financial supporter, or volunteering, or call 513-621-4147.
#    #    #