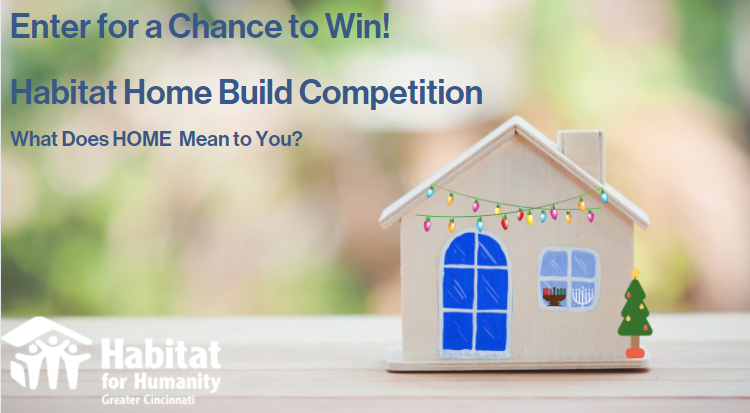 Habitat for Humanity of Greater Cincinnati is encouraging all families and friends to get creative during these stay-at-home days over the holidays. Kids and adults may enter the contest, by building their version of a 3-dimensional Habitat model house of the materials of their choice, to be voted on by the Habitat of Greater Cincinnati staff.
It is a fun opportunity to put aside the stress of the year and get creative. It can be done virtually with your family and friends who can't be together for the holidays. It will work on problem-solving skills, teamwork and it's an opportunity to teach others about Habitat for Humanity and why affordable housing matters!
Objective: Build a 3-dimensional model house made of anything!
Age Groups: Children: 3-17, Adults: 18+
Building Guidelines: The home should be a 3D model/interpretation of Habitat for Humanity homes that should include at least four walls and a roof. Build the house out of the material(s) of your choosing. Be creative! Ideas include paper mache, LEGOs, sticks and leaves, cardboard, lumber, popsicle sticks, gingerbread, fabric… anything you can think of! The house must be built from scratch. If working with a child on this project, please help with any safety concerns (ie- scissors, hot glue guns, or stapling)
How to enter: Email us! Please let us know if you are entering in the adult or child category.  Competitors should submit their finished creation by photo. Please take a couple of photos of your house, with a few bullet points describing the home. Please ensure the photos are of good quality since they may be featured on our social media and website.
Submissions must include:
Name of individual(s) entering (you may request to be anonymous)
Mailing Address
Title of the project
List of materials used
Photos of the completed project
Bullet point description of the project and what "HOME" means to you
Submissions are due by 11:59 PM on Sunday, January 3, 2021. Habitat staff will vote on the submissions and winners will be announced in January!
Winners: The Habitat staff will vote based on the most realistic, most creative, and most unusual materials to determine the winners in both the children and adult categories. Winners will be featured on Habitat for Humanity's social media pages and website. Additionally, they will receive a Certificate of Recognition acknowledging the win and a prize! All entries will be available to be viewed on our website www.habitatcincinnati.org.
*Final submissions must be emailed to volunteer@habitatcincinnati.org*
Good luck and Happy Holidays!