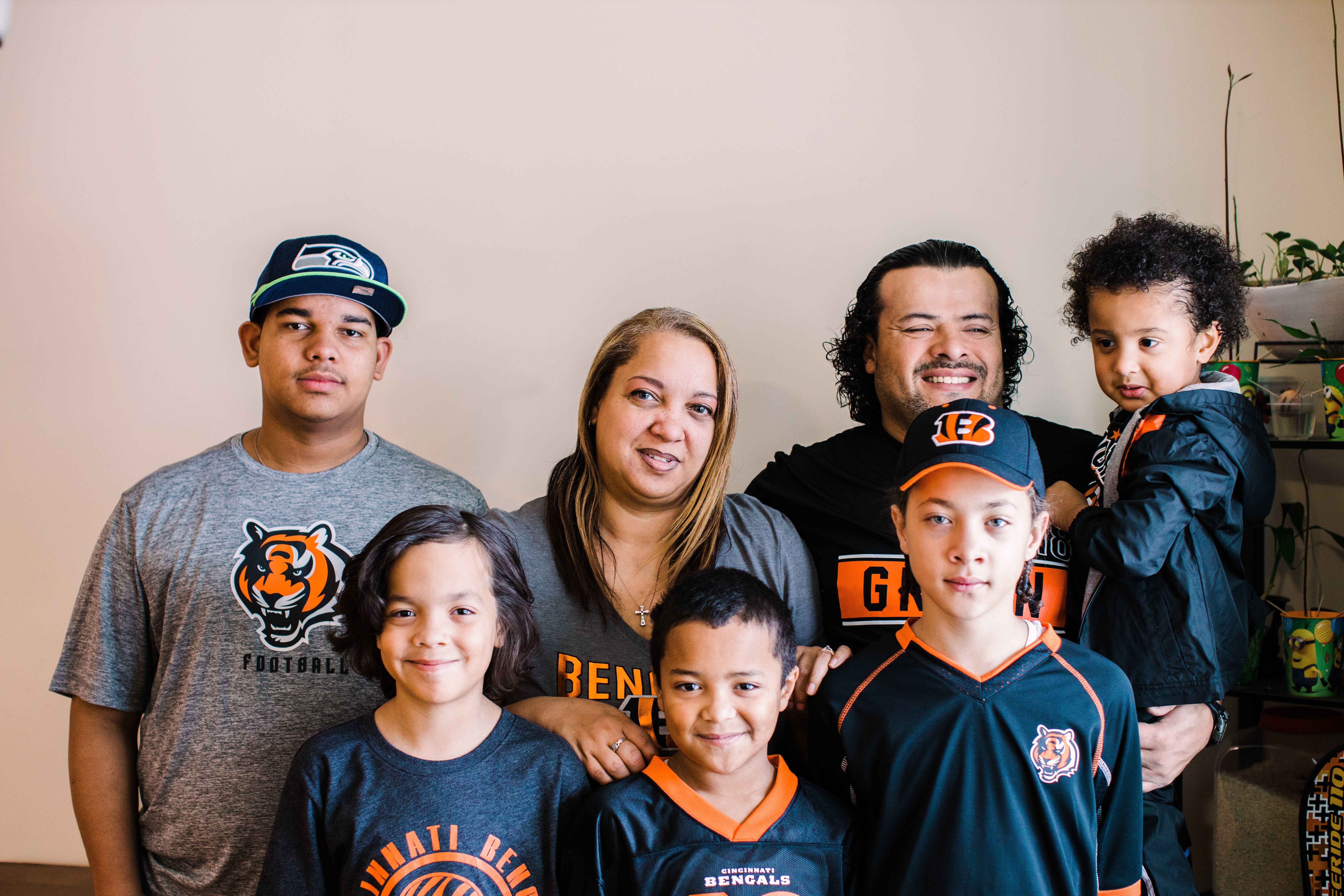 Q: What year did you become a homeowner?
A: We became homeowners in December 2017.
Q: What made you apply for Habitat Home?
A: We applied for a Habitat home because we wanted to be homeowners but felt the bank loan process could be complicated, with little additional help. We knew that Habitat would help us with classes and information that would help us become successful, lifelong homeowners. We also knew going through Habitat we would be able to get an affordable home for our family. A bonus was my husband's excitement about being completely hands-on involved in the process of building a home for our family. To this day, he brags about being there every step of the way and takes a great deal of pride in that.
Q: During your homeowner process you had a baby who was hospitalized for a long time with a serious condition. By the time we dedicated he was well and active. How is he now and how old is he?
A: Giovanni is 5 years old now and is thriving and doing great. The brain surgery corrected the issue and the doctors do not foresee any additional surgeries needed at this time.
Q: How has life been since becoming a homeowner?
A: Life since becoming a homeowner has been amazing. Financial doors were opened for us, and still are, simply because we are homeowners.
Q: Have you been able to reach some of the goals you set when becoming a homeowner?
A: Yes, we have been able to reach some of the goals we set for ourselves. One of our major goals was to be a 2-car household. We also wanted to become financially stable. We now have 2 reliable cars and had some financial freedoms. In the first 2 years of our homeownership, prior to the pandemic, we were able to save enough that when the pandemic hit, we were able to survive on our savings for nearly a year.
Q: What do the next five years look like for you?
A: The next 5 years we will be making improvements to our home. Adding a deck in the backyard and a white picket fence in the front, something I've always wanted. Other than that, we will just be coasting through life until the kids are all grown.
Q: What are some of the major differences you've seen from renting a home to owning a home?
A: There are so many major differences we've seen between renting and owning our own home. One major one is the amount of space we have for our family. Through Habitat, we were able to get an affordable home at a price we could afford without financially struggling. Renting a home this big would not have been possible on our budget. Another difference between renting and owning is, when you are renting a property you cannot make changes to that property to make it your own, some places won't even let you hang up photos or pictures on the walls. Owning your own home is like having your own piece of the world that belongs to you.
Q: Do you have any encouraging or helpful words for new homeowners?
A: My encouraging words for new homeowners would be, if you just started your process hang in there and try very hard to be patient. Trust the process and know that it's all going to be worth it in the end. Becoming a homeowner is very much like becoming a parent. The process of getting the home is like the pregnancy -- it seems to take forever and there are some fun spots and some not so fun spots. Signing the documents for the mortgage is like delivery, in the sense that it can be scary, yet exciting. And just like childbirth, once it's over, you don't remember the pain and you laugh at the struggle of the wait. It can be a very difficult journey but by the end of it all, you will have this wonderful thing that belongs to you.