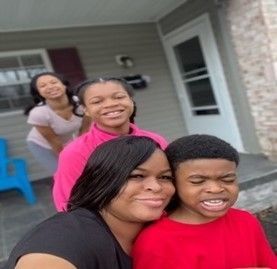 Q: What year did you become a homeowner?
A: March of 2015
Q: What made you apply for Habitat Home?
A: My mother inspired me to reach out and kept telling me about the program. At the time Obama was in office and was giving out some type of credit for first-time homeowners which gave me the push to want to try to be a homeowner.
Q: How has life been since becoming a homeowner?
A: It has been an experience. You realize that everything is all on you when it comes to repairs which can be difficult at times with having 3 kids. Overall, I would say that it has been a blessing. My goal in the next 5 years is to buy another property.
Q: Have you been able to reach some of the goals you set when becoming a homeowner?
A: Yes, my main goal was being a homeowner and actually learning how to be a homeowner. I've been able to make renovations both big and small.
Q: What does the next 5 years look like for you?
A: In the next 5 years I want to keep renovating and updating my home.
Q: What are some of the major differences you've seen from renting a home to owning a home?
A: Every home repair and concern becomes your responsibility instead of depending on a landlord. With owning, you also have the opportunity to do as you please because it is your home whether that's painting, decorating, or whatever the case may be.