Habitat for Humanity International builds in more than 80 countries around the world, working in local villages and communities to address the most urgent housing and health needs.
Each year Habitat for Humanity "tithes" 10% of privately raised undesignated funds to support Habitat's mission worldwide with a goal of eliminating poverty housing and homelessness. Our tithe goes towards building homes in Armenia, Cambodia, El Salvador, and Kenya. Our tithe has made it possible for more than 1,000 families in Kenya, El Salvador, Cambodia, and Armenia to have decent, affordable housing.
our affiliate supports four countries: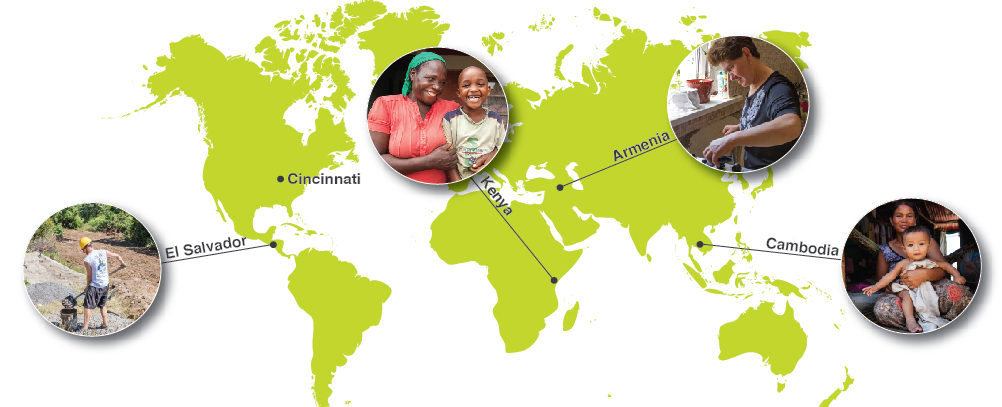 Upcoming Global Village Trips
Cambodia
Two spots have opened up on our Cambodia Global Village Trip. Please see below for more information. 
What: Cambodia Global Village Trip. We will be building houses in Siem Reap, Cambodia 
When: November 8-19, 2018
Cost: ~$3,200 (will vary depending on flight/number of volunteers attending)
More information: Please contact Heather Cockram, heather.cockram@habitatcincinnati.org or call 614-286-7282
http://habitatcambodia.org/ 
El Salvador
We usually take Global Village trips to El Salvador twice a year.
If this is something you would like to do, we are actively recruiting for our next trip!
What & Where: Global Village Trip to El Salvador
When: January 12-20, 2019
Where: El Salvador, specifically Usulatan Department (State), where we've built the last 5 years.
Work side by side with a future homeowner. You will be mixing mortar and cement, possibly digging the footing, or painting, but one thing's for sure — you'll be having a GREAT time!
Cultural experiences included.
Take a chance, change a life!
Estimated Cost: $1,700.00
Key Contacts:
Jozie Banas – Team Leader
Email: jozie.banas@habitatcincinnati.org
Phone: 606-315-3870
or
Ken Holloway – Asst. Team Leader
Email: kaholloway1@icloud.com
Phone: 513-604-7641
 
Global Village Story
Three families on different paths brought together and given a way to give and receive. Read more about how local people helped "Build José a Home!"