Habitat for Humanity International builds in more than 80 countries around the world, working in local villages and communities to address the most urgent housing and health needs.
Each year Habitat for Humanity "tithes" 10% of privately raised undesignated funds to support Habitat's mission worldwide with a goal of eliminating poverty housing and homelessness. Our tithe goes towards building homes in Nepal, Cambodia, El Salvador, and Kenya. Our tithe has made it possible for more than 1,000 families in Kenya, El Salvador, Cambodia, and Nepal to have decent, affordable housing.
our affiliate supports four countries: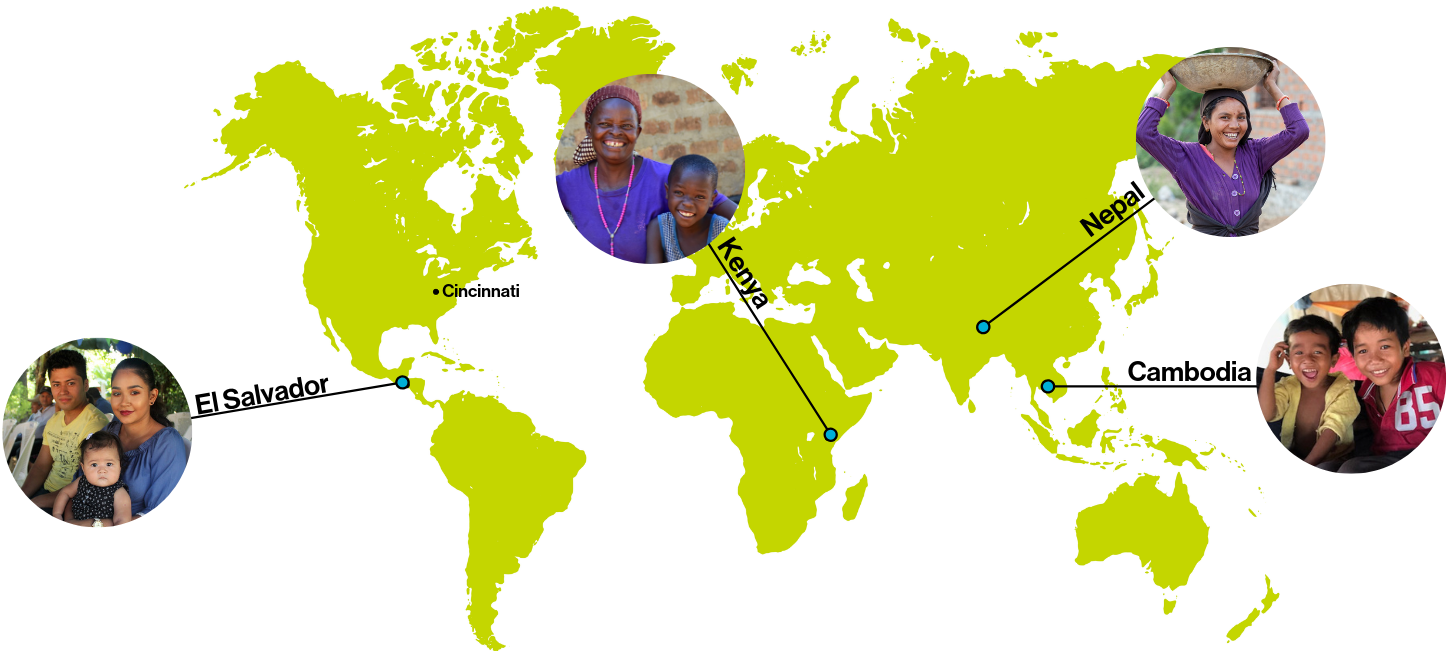 COVID-19 impact on Global Village builds
Out of continuing concern for the health and safety of all our staff members, volunteers, partners and the people we serve, and recognizing the increased operational challenges brought forth during the pandemic, Habitat for Humanity International has postponed the resumption of the Global Village program and virtual builds until a safe and quality experience can be provided.
We strive to provide our volunteers and partners with a high standard of service and support. Unfortunately, the pandemic continues to impact the resources needed to deliver the Global Village experience to the standard necessary at this time.
---
How to Help Habitat for Humanity of El Salvador When We Cannot Travel
This past hurricane season was very active. Central America took several direct hits. If the winds didn't damage a community, the rain caused massive flooding and mudslides. El Salvador and the community of California was not spared. The California community is in desperate need of temporary housing. The attached document provides more detail and the specifics of Project California Dreaming.   
On behalf of our future and previous Global Village Volunteer teams, we are asking for your financial help.  While we cannot go to El Salvador this coming year, we are hoping that each of you will prayerfully consider making a donation.  So instead of purchasing a plane ticket in 2021, consider making a financial donation to assist the California Community.  We have set a goal of $15,000 to help assist Habitat for Humanity of El Salvador with the California Dreaming project.
Please help us make this a dream come true for the community of California, Usulatán. 
Gifts can be made online, here, or via mail.  When making a gift online, be sure to select El Salvador California Dreaming as your designation. If you choose to mail your gift, please make checks payable to Habitat for Humanity of Greater Cincinnati and include California Dreaming, El Salvador in the memo. 
          Habitat for Humanity of Greater Cincinnati
          Attn: Emily Nickolas
          4910 Para Drive
          Cincinnati, OH 45237
If you have any questions please contact, Emily Nickolas at emily.nickolas@habitatcincinnati.org
 
Global Village Story
Three families on different paths brought together and given an opportunity to give and receive. Read more about how local people helped "Build José a Home!"