Action Alerts - watch this space!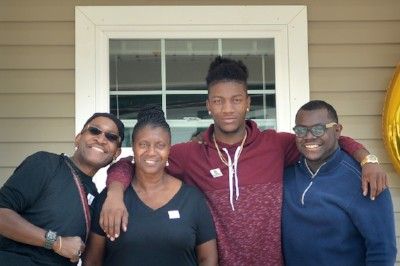 Habitat for Humanity Ohio has a plan to increase affordable homeownership opportunities across the state. We are requesting funding from Ohio's $5.6 Billion in State and Local Fiscal Recovery funds made possible by the American Rescue Plan Act passed by the U.S. Congress in March. Our proposal is to allocate $25 million to build, rehabilitate, and preserve 1,000 homes over the next five years.
---
Families across the U.S. are paying too high a price to cover the cost of home. 
Rent and homeownership costs are skyrocketing, but wages are not keeping pace. Too many families struggle to make ends meet. In cities, suburbs, and rural areas, the stability that home should bring remains out of reach for many families. 
At Habitat for Humanity, we know that a family should never have to spend more than 30% of their income on a home. But today, nearly 19 million U.S. households pay 1/2 or more of their income on a place to live.
That is unacceptable.
That means that 1 in 6 families are denied the personal and economic stability that safe, decent and affordable housing provides. Instead, 1 in 6 families are forced to make impossible choices. Safe homes. Nutritious food on the table. Health care. Access to good schools. Reliable transportation.
Now, as the economic impacts of COVID-19 continue to unfold, the number of families struggling to make ends meet is only growing. Housing policy is influenced by decades of systemic racism. Habitat's Cost of Home campaign calls for policymakers to acknowledge and address the well-documented historic patterns of racial discrimination in housing and land use policies — at all levels of government — that still impact the makeup and opportunities of our communities.
We declare our commitment: Habitat for Humanity will work to ensure that no family has to pay more than half of their paycheck to cover the cost of home.
Over the next 5 years, we will join Habitat organizations, our partners, our volunteers, and community members across the country to find the solutions and help create the policies that will allow 10 million individuals to meet their most basic needs.
The time is now!
Use your voice to encourage others to vote and tell candidates that no family should have to spend more than half their income on housing.
Here's your "action kit":
Vote! Candidates at every level should be asked where they stand on affordable housing for all.
Send a message to your representatives to support greater housing stability
Follow us on Facebook for legislative alerts and other timely updates
Customize and download social media graphics and statistics to share with your networks
Bookmark this page - we'll keep it updated with additional references and calls to action
Get involved - learn about housing policy in your community and ask questions of administrators and elected officials
Other Resources
Community-wide Housing Strategy (LISC)
Racial Disparities and Housing Policy (white paper from Habitat for Humanity International)
Housing Opportunities Made Equal website