What is AmeriCorps?
The Corporation for National and Community Service was established as a federal agency in 1993 and AmeriCorps is one of its signature programs. Since the program's founding in 1994, almost 1 million AmeriCorps members have contributed more than 1.4 billion hours in service across America while tackling pressing problems and mobilizing millions of volunteers for the organizations they serve. AmeriCorps can be described as a "stay at home version" of the Peace Corps.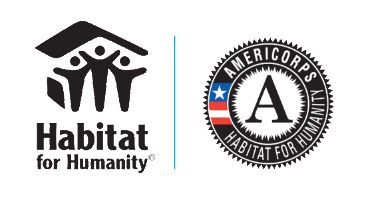 Habitat & AmeriCorps in Partnership
Over the years, Habitat for Humanity and AmeriCorps have worked together to build a world where everyone has a decent place to live. Habitat's AmeriCorps program helps homeowners achieve strength, stability, and self-reliance through shelter across the United States. Habitat AmeriCorps members can serve in leadership roles on active build sites or in local Habitat offices, assisting homeowners, volunteers and staff through a year of service. Here at Habitat for Humanity of Greater Cincinnati (HFHGC), our AmeriCorps team members work exclusively constructing new homes or rehabbing homes. We are proud of our partnership with AmeriCorps. Both of our organizations value a supportive, strong teaching and learning atmosphere. Together we warmly welcome every individual who wishes to help. Skills are taught and knowledge is shared so that volunteers, AmeriCorps team members, and Habitat staff can work efficiently and confidently side by side on a build site.
How Does It Work?
At the beginning of each AmeriCorps term (approximately one year), a group of four to six individuals begin working together. The level of construction experience among team members varies, but all team members are able to grow in knowledge and experience together, learn to work as a team, and utilize each member's strengths to get the job done.
Quickly the AmeriCorps team members form a tight team and unbreakable bonds develop and strengthen within weeks. "I remember when I was in AmeriCorps someone asked me about a fellow member and how long we had been friends." said Natalie Foy, now on staff with HFHGC. "He was shocked when I said we had only known each other for two months. He assumed we had been friends for years. It's such an awesome cycle to watch, noticing team members go from complete strangers to close friends in just a matter of weeks."
"We are so incredibly blessed to have a continued partnership with AmeriCorps. They are our secret weapon. Our AmeriCorps provide us a consistent source of construction labor and onsite volunteer leadership. It would be impossible to build as many homes as we do each year without their help," said Ed Lee, HFHGC President/CEO. "We also do our best to leverage the Habitat network to help our AmeriCorps transition to the next step in their careers at the end of their year of service. We cannot hire all graduates but we are delighted that we have three former AmeriCorps team members now part of our staff. HFHGC is looking forward to many more years of working with these amazing partners."
If you are interested in becoming an AmeriCorps team member, read the position description here and please contact Zach Anspach at zach.anspach@habitatcincinnati.org 
Frequently Asked Questions
Am I allowed to have a second job/go to school during my AmeriCorps term?
Absolutely! As long as it doesn't interfere with your AmeriCorps service.
Do you currently have AmeriCorps members?
Yes! We currently have eight AmeriCorps National members serving as Construction Crew leaders.
We are also recruiting eight new members for the 2019-2020 AmeriCorps service year!
How do I apply?
We are now recruiting for eight Habitat AmeriCorps Construction Crew Leader Members to serve August 2019-July 2020. Interested applicants should apply on the Habitat for Humanity International website.
If I am selected, when do I start?
2019-2020 AmeriCorps begin early August and end service in early July.
I've submitted my application and resume, now what?
Habitat International and HFHGC will review applications and set up interviews with potential candidates. In the meantime, please direct any additional questions to Zach Anspach.
Will I be required to have a car?
No, but you will be required to have a reliable form of transportation to and from our training annex each day. Throughout the work day, you will be using a company vehicle for transportation. You will need to have your driver's license and a good driving record. The position requires you to drive to various sites or communities in company vehicles on a daily basis.
Do I get paid for being an AmeriCorps member?
Yes, you receive a modest bi-weekly living stipend.
Who can I contact with any further questions about the AmeriCorps program at HFHGC?
Contact Zach Anspach at zach.anspach@habitatcincinnati.org.